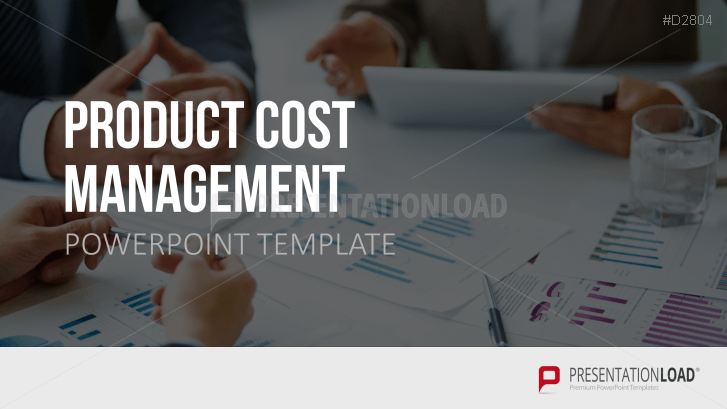 Statistics, charts, checklists and more to visualize your strategies and steps for effective product cost management.
Focus on Costs
Competitors' products often have varying characteristics, such as price and quality. Production costs, including those accrued during the product's design and development phase, must also be taken into account. With the Design to Cost (DTC) approach, product manufacturing and sales cycles can be controlled, allowing predefined cost targets to be achieved and delivering value to the customer.
Product Cost Management for PowerPoint
Marketing, production type, compatibility, competition, quantity, as well as a large number of employees can all have an influence product costs. A product cost manager faces the challenge of overseeing the various cost factors and practices that influence target costing.
Our set includes definitions, factors and methods providing you with the tools you need for effective cost analysis. We also offer charts and slides with explanations and overviews of all that goes into product cost management. Along with checklists and examples, these tools allow you to explain the challenges of product cost management and the appropriate measures to take.
With Our Product Cost Management Template You Can
have a visual overview of the most important product cost management processes

consider the right design elements to represent your cost strategy

customize charts to your cost definitions and steps

Our Product Cost Management Template Includes:
method descriptions, determining factors, responsibilities, challenges, quotes and definitions

charts for Design-to-Cost, target costing, value analysis, quality function deployment, Poka Yoke, bottom-up estimating, reverse engineering, etc.,

study results and statistics of current trends

checklist for implementation

graphics and background photos