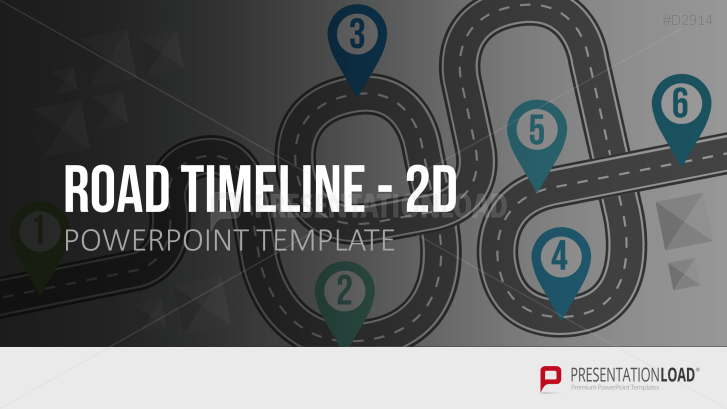 Vividly present a sequence of events using professionally designed two-dimensional road timelines.
Visualize a Chronological Sequence of Events
Timelines can be used to summarize and present chronological events. Important milestones can be ideally presented, and specific facts and information can be highlighted. Timelines can be used to illustrate a company's history or an individual's professional achievements.
Professionally Designed Road Timelines
A road timeline can illustrate the success story of a company or individual, or visualize a project as an ongoing journey. The road design helps to highlight development and progress.
Identify Chronological Connections
Timelines are indispensable tools for visualizing information and events in many professional contexts. Often, more detailed correlations are only apparent when this information is chronologically presented.
A sequence of events, or a company's history and important milestones are not always a straight line – much like a road with its curves and crossroads. Presenting these achievements and events in a creative and appealing design is essential.
Creating your own timeline can be extremely time-consuming. Let our professionally designed templates do the work for you – just add your own data to the ready-made timelines. The template's toolbox allows you to tap into your creativity and create your own unique road timelines.
With This PowerPoint Template, You Can
display important data and chronological sequences

make use of a variety of high-quality timelines

create your own individual timelines
This Template Includes:
a selection of timelines in different shapes and layouts

image and text placeholders

a toolbox for individual design possibilities