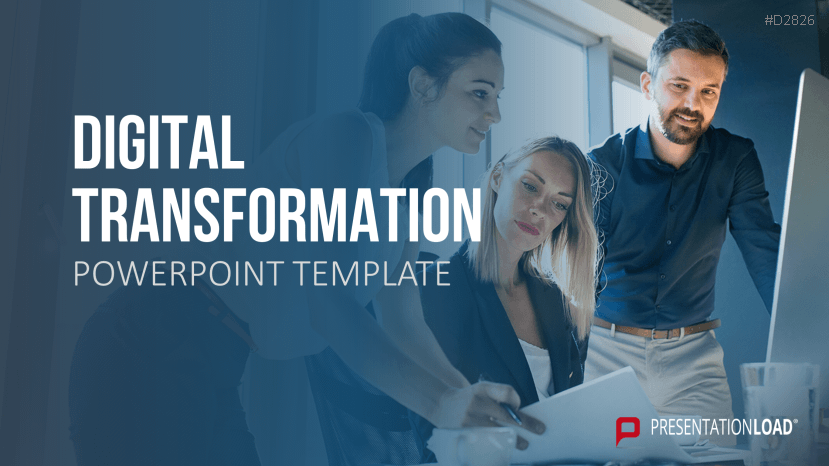 The Digital Transformation PPT for Your Company
Charts, graphs and examples visualize how your company is transitioning into the digital age.
Adapting to Transformation and the Digital Economy in One PowerPoint Template
Companies that don't adapt to technological progress today won't be able to keep up with competitors. An effective change strategy is needed to drive the digitization process. Stakeholders and leaders need to be selected and prepared, departments and processes modernized and developed, and a multitude of digital transformation challenges overcome.
Developing automation processes, collecting and managing data, integrating artificial intelligence – these are the challenges that a company's teams, in particular IT, need to address to drive the digitalization process.
The Digital Transformation PPT: Be Prepared for Change
This set contains a wealth of information on the various aspects of digital transformation. Diagrams and examples can be used to clearly present correlations and steps in various transformation processes. This presentation can be used to introduce the importance of the digital economy to your team and optimally prepare employees for a planned transformation.
With this Template You Can
communicate how processes will be aligned with modern, digital requirements

present your transformation strategy

illustrate change processes within your company
This PowerPoint Template Includes:
Definition

Digital transformation strategy

Bestandteile und Schritte zur digitalen Transformation

Stakeholders and their responsibilities

Factors that impact digital transformation

Challenges

Value chain after digital transformation

Digital maturity model

Example: digitializing marketing

Digital transformation diagrams