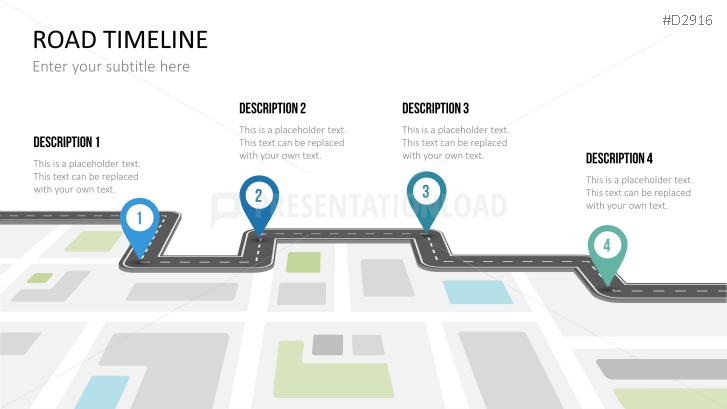 Use streamlined timelines in modern 3D road designs to illustrate development processes.
A Concise Presentation of Chronological Developments
Timelines provide a clear overview and visualization of the chronological relationship between important events and information. Creative road timelines allow you to illustrate the question "Where are we heading?" and are ideal for presenting your company's strategic direction.
Timelines can be used to illustrate the history of a company, from its inception to present day. Important events in a company's history can also be presented to visualize significant milestones and successes.
Visualize Important Data with Innovative Graphics
Timelines in three-dimensional road graphics provide a vivid and creative presentation of significant events over time. The ready-made placeholders can be filled with your individual data. In addition, the template's toolbox allows you to explore your own creativity by combining individual roads into a unique timeline.
With This PowerPoint Template, You Can
take advantage of unique and professionally designed timelines

use a large variety of clear and concise design options

create your own timelines with our toolbox
This Template Includes:
a large selection of three-dimensional road timelines

a toolbox to create your own timelines

ready-made image and text placeholders
many different timeline designs