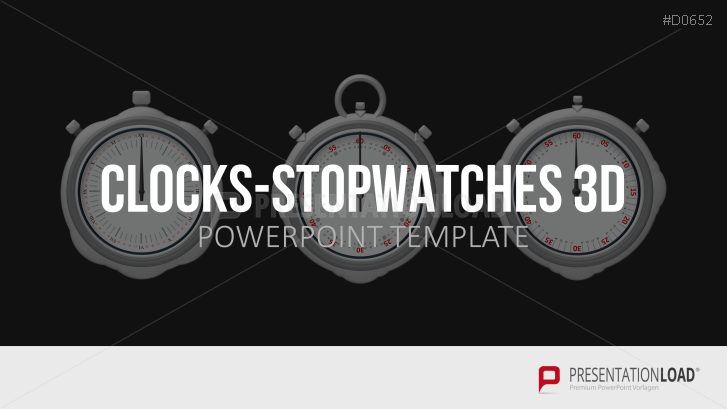 With the Stopwatch 3D Graphics, you can highlight significant periods of time, deadlines, process steps and other figures.
Time Device as a Visualization Tool
Pictures of stopwatches can be a creative design element. They are suitable for presenting individual indicators as well as for preparing several developmental stages and time periods. A marked area on the clock display can highlight a certain amount of time.
In addition, stopwatches can be associated with several situations, such as performance measurement or time constraints, as well as illustrate issues relating to labor optimization and stress in the office.
Customizable Sports Watches
Our set offers a wide range of different stopwatch graphics in a 3D look. Different displays can be individually marked with editable pointers and colored surfaces. Slides with multiple stopwatches are also useful for comparisons, graphs, and analysis.
With the Stopwatch 3D Graphics for PowerPoint, You Can
highlight important numbers and information graphically

creatively make presentations with various time-related topics

use editable stopwatch graphics for a variety of applications

This PowerPoint Template Includes:
Stopwatch 3D Graphics in different types

stopwatch images combined with several slides

editable pointers and displays

preformatted text placeholders