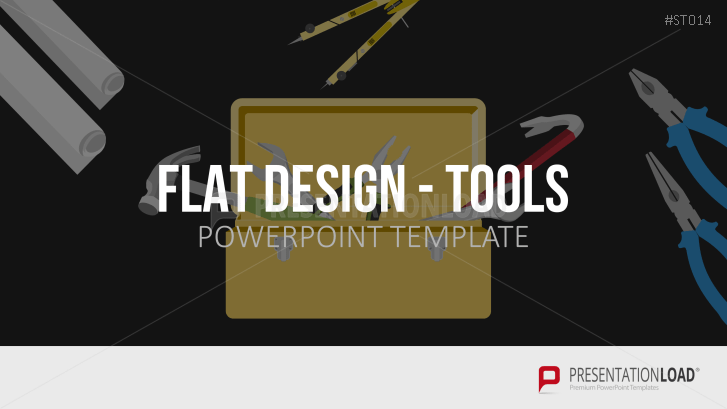 Compasses, hammers or saws- this set for PowerPoint includes graphic tools and small machines for the workshop in flat design.

Do it Yourself

A well-stocked toolbox or a home workshop can provide the means that save you from going to an expensive shop. Graphics of proper work tools and materials can express personal initiative, communicate work processes and motivate others "to pitch in."

With Skill and Precision

A paint bucket with paint brush/ roller, a compass with pencil and calculator, a variety of devices such as a drill, circular saw or hot glue gun as well as various screwdrivers, pliers, putty knife and more are all found in our set, ready-made in flat design motifs.

Our flat design is characterized by simple geometric shapes, sharp color contrasts, and custom fonts. Due to its minimalist, uncluttered look, this style is often used when creating websites and is equally suitable for presentations and graphs. With our "digital toolbox" for PowerPoint, you can select from a full range of design elements for future projects.

With Our Flat Design – Tools, You Can

symbolically convey how you want to achieve your goal
clearly create fitting slides
use graphic elements in various contexts
This PowerPoint Template Includes:

tools in flat design
graphics of small machines (circular saw, electric screwdriver, etc.)
utensils (screwdrivers, pocket knife, hammer, etc.)