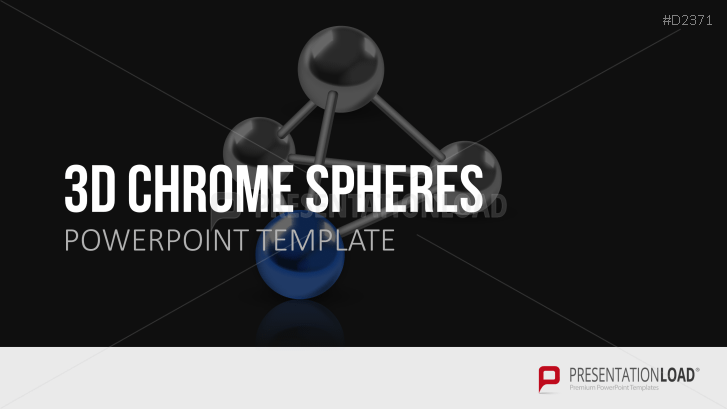 Use these interconnected chrome spheres to illustrate correlations and structures.

Build Sphere Constructions

Similar to the construction of a molecule, these linked spheres respresent the relationships between several elements. Our freely movable sphere graphics in chrome design allow you to always create new structures and forms, thus significantly making internal connections of your project or company.

Connecting Two Elements

Spheres that lie flat on the floor and are put together with small bars can be used to resemble a roadway system for local and long-distance transport. A similar idea of this connection also can play a role in business contexts, namely when it comes to the structure and its organization. As another example, the slides in our kit contain a selection of a three-axis coordinate system with chrome spheres as points. A similar matrix structure is also used in a portfolio or BCG matrices.

In addition to the examples mentioned, our PowerPoint templates contain many more design elements and ideas. A toolbox with different colored sphere graphics provides you with what you need to give your presentations that certain something.

Our 3D Chrome Spheres - Structures give you

a design that will be remembered
design templates and new ideas
a productive use of creative freedom and tools
PowerPoint Templates Include

interconnected chrome spheres (e.g. in the form of a molecule, a cube etc.)
a matrix with chrome spheres (similar to a portfolio or BCG matrix)
a pyramid consisting of spheres
a seesaw graphic with spheres on both sides
chrome spheres arranged as a radial diagram
a toolbox with different colored spheres