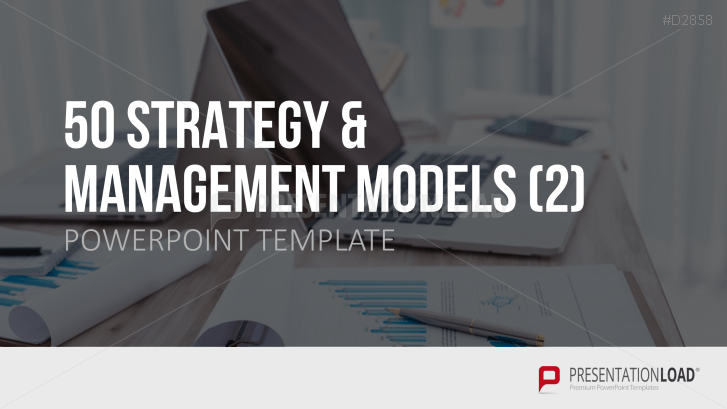 Visualize your business strategy with our second set of 50 models for fields such as finance, innovation, corporate leadership and organization, human resource management and marketing.
Provide the Best Strategy
Strategy models assist consultants and managers with their daily tasks. They often need to find solutions to problems, figure out subsequent steps, and communicate action plans to their colleagues or supervisors. What better way to graphically represent these processes than with a presentation?
Prefabricated Diagrams
Our set provides established strategy and management models for planning your actions and goals. Each diagram contains an explanation and can be instantly integrated into your presentation with just a few clicks.
With This Template for PowerPoint, You Can
obtain useful management tools

graphically communicate your business strategy

facilitate managers' and consultants' work

This Set Includes:
1. DuPont Analysis
2. Economic Value Added
3. Offshoring
4. Bass Diffusion Model
5. Disruptive Innovation
6. Hype Cycle
7. Innovation Cycle
8. Schein's Three Levels of Culture
9. Trompenaar's Culture Dimensions
10. Organizational Configuration
11. Stage-Gate Model
12. Architecture Development Method
13. Compensation Model
14. Seven Habits of Highly Effective People
15. Focus-Energy Matrix
16. Risk-Reward Analysis
17. SMART Targets
18. Belbin's Team Roles
19. Seven Levels of Sustainability
20. ADL Matrix
21. Cradle to Cradle Concept
22. Generic Strategies
23. Bottom of the Pyramid (BoP)
24. BoP Framework
25. CAGE Distance Framework
26. Competing Values
27. MDA Framework
28. Model of Entrepreneurship
29. Aacker's Brand Equity
30. Core Quadrants
31. Competing Values Framework (CVF)
32. Balancing Transparency
33. DMIS Model
34. 3R Model
35. Total Perceived Service Quality
36. Elaboration Likelihood Model (ELM)
37. Service-Profit Chain
38. AMO model
39. Cialdini's Six Principles of Influence
40. Two-Factor Theory
41. Gainsharing
42. Business Process Management (BPM)
43. Identity and Image by Birkigt and Stadler
44. Situational Leadership by Hersey and Blanchard
45. Kotter's 8-Step Change
46. Situational Crisis Communication Theory (SCCT)
47. Cynefin Framework
48. Blue Leadership
49. Boonstra's Eight Routes for Culture Change
50. Interpersonal Circumplex