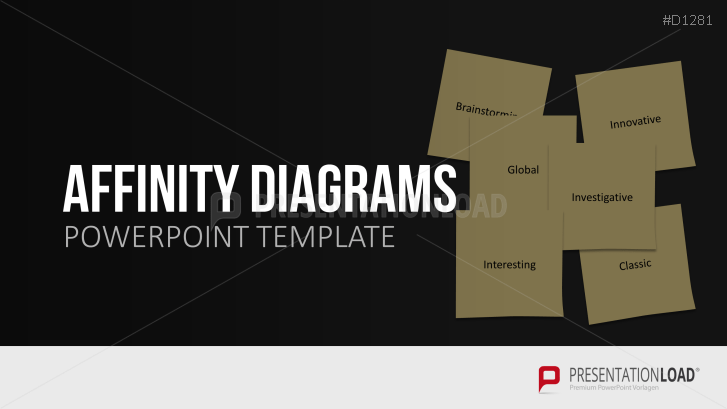 By using the Affinity Diagrams for PowerPoint, you can clearly arrange subjective amounts of data in charts composed of varying columns and data fields for rapid entry.
Summarize, Group, and Structure Subjective Data
These diagrams are useful for sorting disordered and subjective information, such as opinions and ideas. These are compiled through brainstorming sessions or surveys, individually distributed in fields and then grouped together by content similarity.
Each group represents an aspect of the main topic and is marked with appropriate headings. The end result is a complete chart with clear explanations of data relationships.
Tool for Sorting Large Amounts of Data
The structuring of large data amounts may be subjective. For example, the company's marketing department is beneficial to filtering out relevant customer testimonials for a product and then analyzing its worth for further development. This presentation of well-structured opinions and ideas gives all employees a quick overview of the data volumes and serves as an ideal basis for teamwork evaluation.
Instructions and Templates
This collection includes a wide range of Affinity Diagram templates for PowerPoint with several types of columns and data fields. The text placeholders allow charts to be rapidly filled with data and provide a step by step guide to help you and your employees organize it.
With the Affinity Diagrams Templates for PowerPoint, You Can
quickly and clearly organize subjective data

filter out relevant customer testimonials - create diagrams with the help of a professional guide

easily create professional Affinity Diagrams

PowerPoint Templates Include
a variety of Affinity Diagrams

adjustable columns (up to 7 columns)

text placeholders in individual data fields

extra text placeholders for inserting additional information and explanations in charts

a 4-step guideline to create an Affinity Diagram