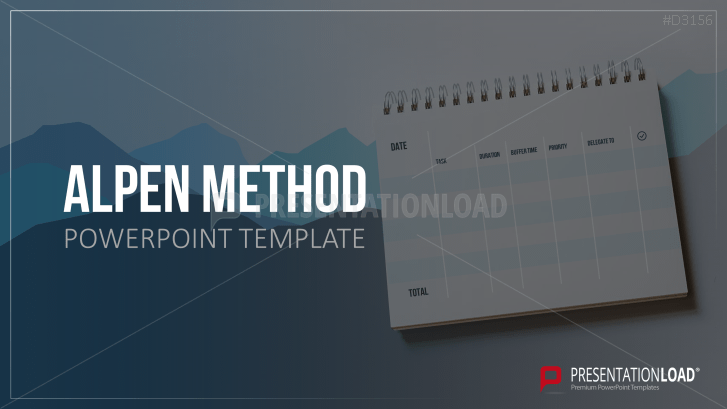 The ALPEN method: five steps to use work time more efficiently
The ALPEN method is an ideal time management tool for everyday life. A workday can be planned in five simple steps, either in the morning or the evening before. This provides the mental support you need to stay focused throughout the day, even in stressful situations. The acronym ALPEN stands for the five work steps:
Activities: Write them down
Length: Estimate time needed
Plan buffer times
Establish prioritized decisions
Note your progress
The ALPEN method offers more value than a simple to-do list. In addition to listing planned activities, it also provides time estimates, buffer times and assigns priority to each task.
Prioritize and visualize your time management with a proven method
With this PowerPoint template, you can present the basic principle of the ALPEN method as a practical aid for daily time management. It gives you the opportunity to prioritize upcoming tasks using proven methods, such as the ABC analysis or the Eisenhower method, which are clearly explained in the presentation. Visually represent your planned activities using the tried-and-tested work breakdown structure and group individual tasks according to topic. The Gantt chart can also be used for overlapping tasks or tasks that build on each other. A Kanban board provides a clear overview of a large number of tasks. The classic daily schedule table is also included in this template.
With the ALPEN Method PowerPoint template, you can
present the ALPEN method for more effective time management
use slides to optimally prioritize your tasks
make long-term improvements to your time management and productivity
This PowerPoint template includes:
Definition
Quote
ALPEN acronym
Who can benefit from this method?
ALPEN graphics
Approach
Performance throughout the day
Buffer time
ABC analysis
Eisenhower method
Work breakdown structure (WBS)
Gantt chart
Kanban board
Daily schedule table
Pros and cons