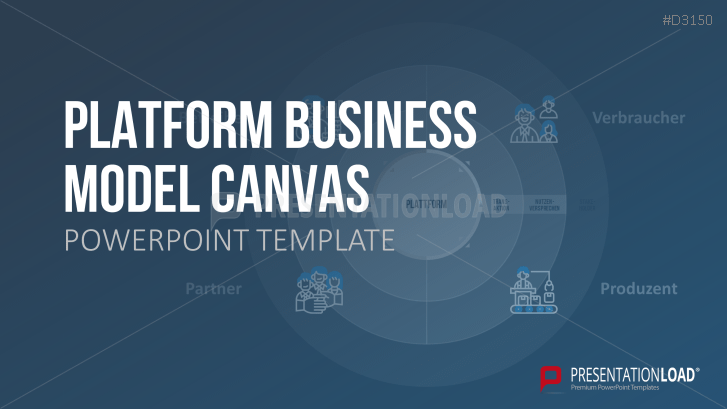 Platform Business Model Canvas (Platform BMC) or Business Model Canvas (BMC)?
In contrast to the Business Model Canvas, which is designed for a linear chain of interaction from producer to the consumer, the Platform BMC focuses on an open system between all parties. Multiple suppliers and consumers can interact simultaneously and directly.
What defines a Platform BMC?
The Platform Business Model Canvas is circular in design. This allows each stakeholder group to be participants throughout a business process. These groups represent four major segments: producers, consumers, partners and platform owners. The three core areas of the Platform BMC are value proposition, value transaction and key components.
Why should you use a Platform BMC template?

The best way to explain evolving concepts and ideas is visually. Use the template to elaborate on the key points of your business model while keeping focus on the major stakeholder groups.

Use the Platform Business Model Canvas template to review and discuss whether your business model can also benefit and increase its profits in a platform ecosystem.


With the Platform Business Model Canvas template for PowerPoint, you can
gain an understanding of how platform business models work.
develop your optimal business model for complex ecosystems.
present your vision clearly and concisely
This PowerPoint template includes:
Different representations of the Platform Business Model Canvas
Differences between BMC and Platform BMC
Digital platforms
Key factors for a successful platform business model
Platform Business Model Canvas templates
Platform BMC example: Airbnb
Platform PMC areas
Demand, feasibility & viability
Needs and benefits for consumers and producers
Cost and revenue template
Stakeholder satisfaction