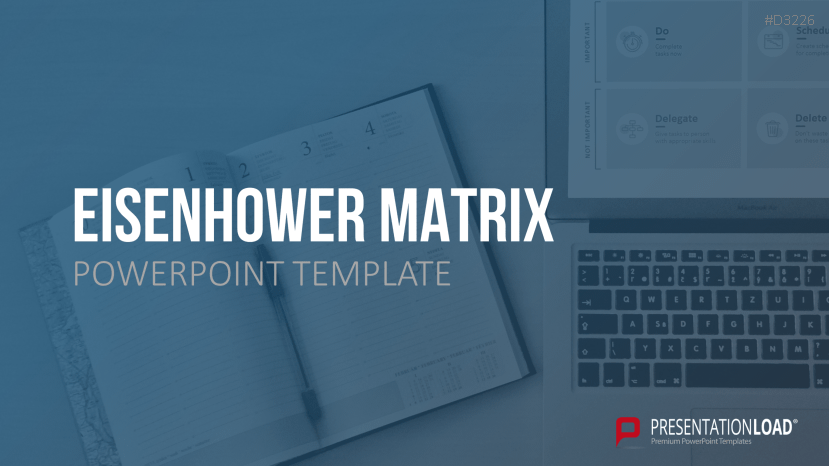 What is the Eisenhower Matrix?
The Eisenhower Matrix is a time management method that prioritizes tasks to ensure that available resources are used optimally. The method was named after U.S. President Dwight D. Eisenhower, who quoted J. Roscoe Miller, a former president of Northwestern University, in one of his speeches:
"I have two kinds of problems, the urgent and the important. The urgent are not important, and the important are never urgent."
Entrepreneur and author Stephen Covey took this speech as a model when he first popularized the Eisenhower Matrix in his book, The 7 Ways to Effectiveness.


How does the Eisenhower Matrix work?
The Eisenhower Matrix prioritizes tasks based on two dimensions: importance and urgency. Important tasks are those that do not require immediate action, but still have a significant impact on achieving long-term goals. Urgent tasks, on the other hand, require immediate attention and bear consequences if not completed in time. The two dimensions allow tasks to be classified into four categories and then prioritized. This approach prioritizes high-impact tasks, optimizes time resources, and avoids stressful situations thanks to more effective scheduling.


How are tasks categorized and prioritized?
Tasks can be defined as A tasks (important and urgent), B tasks (not urgent but important), C tasks (urgent but not important) and D tasks (not important and not urgent). Each category has its own prioritization with specified courses of action. A tasks have the highest priority and are completed immediately by the user. B tasks, are important but need time to be completed. They should be scheduled specifically so that they are not forgotten. C tasks may not be important, but they need to be completed quickly. Delegating these tasks is the best option. D tasks are neither important nor urgent and should be eliminated from the to-do list. Tasks in this category are only implemented if additional time resources are available.


Everything on the Eisenhower Matrix in one PowerPoint template
Our new Eisenhower Matrix PowerPoint template is the perfect way to add this method to your toolbox. Along with key information about the method and matrix, you'll receive a collection of professionally designed templates that allow you to create your own Eisenhower Matrix. Our templates can be customized with just a few clicks, so your task prioritization will always be up to date with little effort – ideal in a fast-paced corporate environment. Present your Eisenhower Matrix now!


With the Eisenhower Matrix for PowerPoint, you can
present basic information on how to use the method.
use a selection of visually appealing matrix templates with placeholders, images and icons.
stay up to date with your task prioritization using our editable slides.


This PowerPoint template includes:
A quote

Eisenhower Matrix: basics
Definition
Matrix
Importance and urgency
Important or urgent task?
Task categorization
How to use
Potential applications
Example
Eisenhower Matrix: objectives
Pros and cons
Eisenhower Matrix: limitations
Matrix templates with placeholders, images and icons