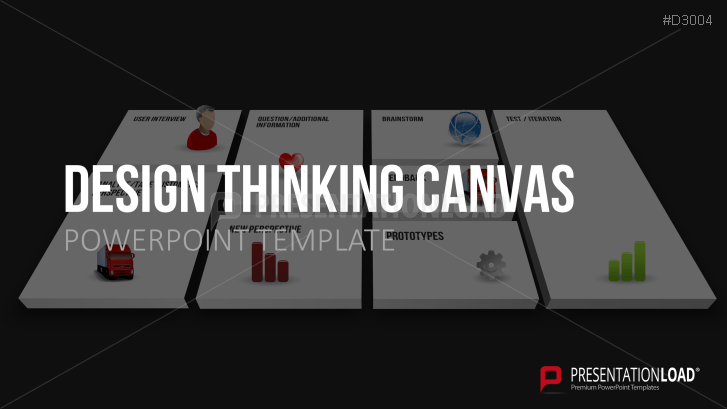 Present your innovative strategy on one slide. Use our professional Design Thinking Canvas template to develop creative ideas for products and processes.
Creative Teamwork
Developed by Stanford University, design thinking is a process that is used to create holistic and user-oriented solutions. A multidisciplinary team is a key factor in bringing together different experiences and opinions.  A "human-centered" design thinking process focuses on the needs of the target group. The result is an innovation that is technologically feasible, marketable, and appealing to the user.
A Concise Overview
With the Design Thinking Canvas, you can clearly illustrate your innovative process on a single PowerPoint slide – from setting objectives to innovation. Individual steps in the process, such as interviewing users, working from analyses/customer perspectives, questioning/broadening new perspectives, brainstorming ideas, giving feedback, testing prototypes, etc., are arranged in quadrants and can be filled with your specific information. You can choose from a wide range of versatile templates – from flat design, to photo backgrounds and three-dimensional designs.
With the Design Thinking Canvas, You Can
visualize the design thinking process on one slide

use a wide selection of canvas designs

quickly summarize the most important points of your innovative process
This PowerPoint Template Includes:
the design thinking process on a canvas

templates in various designs

text placeholders to insert your content