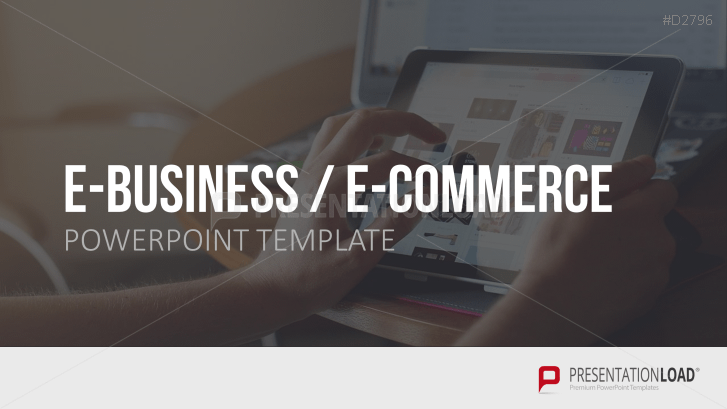 Benefit from our template with definitions, examples, statistics, graphs and more for visualizing your e-business concept.
Information Technology for Automated Business Processes
Electronic business (e-business) uses the technical capabilities of the Internet to support business processes and simplify data exchange through modern information technology. E-business is primarily made up of the electronic trade of goods (e-commerce), electronic goods procurement (e-procurement), digital product sales (e-shop) and the general activity on electronic platforms (e-marketplace). Other parts of the e-business are contact exchange networks (e-community) and electronic cooperation between different companies (e-company).
Digitally Support Your Business Processes
Digital marketplaces such as eBay or Amazon, social networks like Facebook or Twitter and search engines such as Google or Yahoo are the well-known "electronic businesses". But other business models that are not completely associated with the digital market can also benefit from e-business. We can show you how to do this in our PowerPoint template.
You'll see that our slides not only contain basic information about e-business and e-commerce but also give tips and examples for practical implementation and forecasts for the future development of digital information technology. Approaches and tools are featured with charts, graphs and statistics in an appealing way.
Our Slides for E-business and E-commerce
illustrate essential facts of e-business

demonstrate different e-commerce models and implementation

discuss the pros and cons of the digital marketplace

This PowerPoint Template Includes:
e-business developmental stages

information and examples for value creation

e-business and its categories

types of electronic business

platforms & communication tools

analysis of various sources of revenue

advantages and disadvantages

e-business vs. e-commerce

marketing activities of e-commerce

e-commerce strategies

methods of e-business (e.g. customer relationship management)

development of e-business in Germany

different types of information and communication technologies

topic digression: mobile communication

statistics for the future of e-business