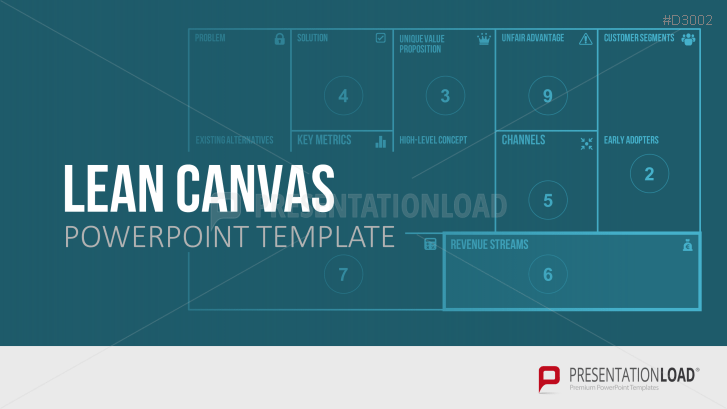 Lean Canvas: Clearly visualize on a single page the nine most important building blocks of your business idea or project according to the principles of lean development.
Focus on the Essentials
A canvas is a popular management tool for presenting business plans in a modular form. Individual ideas are grouped by category to form a marketable business model. Specifically designed for business startups or new product launches, the Lean Canvas is a variation on the classic Business Model Canvas.  Following lean principles, entrepreneurs first focus concentrate on customer requirements, their own strengths, and a continuous improvement process.
The Lean Canvas is presented as nine fields on a single page, with each field containing its own specifications. This provides a succinct layout and precise information for each field, allowing the team to save time and avoid irrelevant topics. The canvas facilitates decision making by enabling a team to quickly document and present key aspects of a project.
Diverse Layouts
This PowerPoint template contains the Lean Canvas in a variety of designs – from a three-dimensional form to simple flat design. The individual fields contain relevant instructions, so you can easily fill them in with your own information.
With the Lean Canvas PowerPoint Template, You Can
summarize important information about your business idea or your project

create a concise overview that can be updated at any time

quickly identify and organize correlations
This PowerPoint Template Includes:
the Lean Canvas on one slide

various design options

information for each of the nine fields

icons