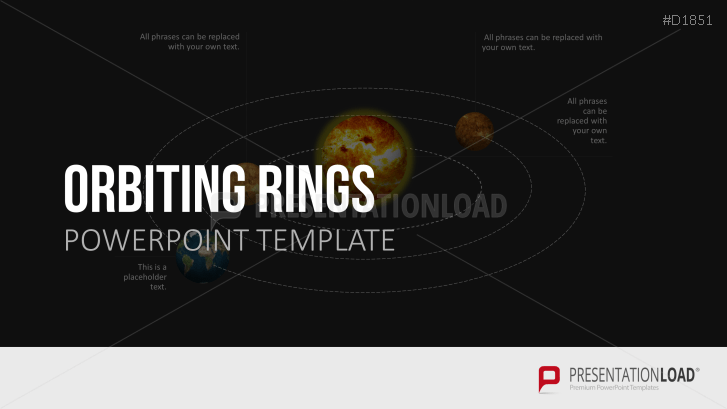 Set of Professional PowerPoint Templates for Presenting Repetitive Processes and their Individual Steps.
Planetary Orbit
This PowerPoint template features sphere and planet graphics positioned around a larger central sphere. The cyclical nature inferred by these designs is particularly effective for visualizing repetitive processes.

Present Processes and Individual Steps

These graphics are extremely useful for representing processes and breaking them down into their individual stages. An outer orbit containing several smaller orbits can be used to symbolize the entire process and its individual components.

Placeholders allow you to customize each slide with your own content, while the design enables you to focus on a core issue or process and define its connections and interrelationships.

With This Orbiting Rings Template You Can

apply the symbolic power of planets in your presentation
customize your slides
enjoy state-of-the-art design

This PowerPoint Template Contains

orbital graphics perfect for depicting processes and how they interrelate
customizable placeholders