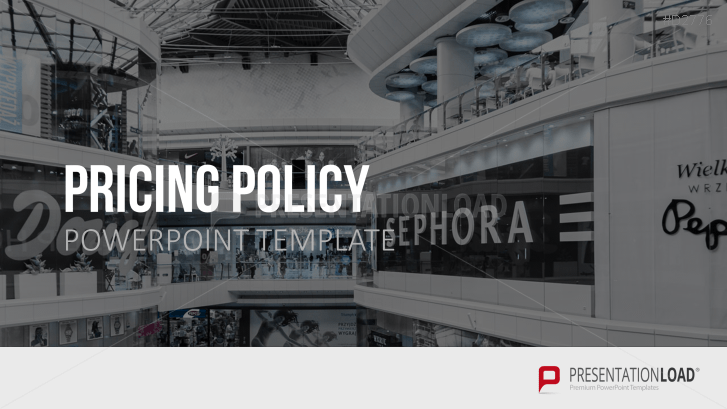 This PowerPoint set summarizes the importance, objectives, factors, strategies, tools and risks of pricing in your business.
The Price as an Incentive to Buy
The pricing policy, together with the product, communication and distribution policy, is an important pillar of the marketing mix. The goal is to create purchase incentives for customers by skillful price structuring. At the strategic level, setting the sales price can run in different directions: the fixed price strategy, for example, determines the specific price at which this product will be available when released.
The price progression strategy, however, focuses on a more dynamic approach. Instead of a fixed price, a variable rate is set that changes over time. The "absorption strategy" places the product at a high price at market entry and then lowers it significantly over time. The penetration strategy works vice versa. When defining the pricing policy of your company, you should find the right strategy to discover the optimum price for your product/ service that represents a reasonable compromise between the internal operation costs, demand and market competition as well as your individual corporate objectives.
Strategies and Tools of Pricing
As well as basic information about the different tools, see detailed explanations of the importance of pricing and the specific objectives of each approach in this presentation template. We have listed some valuable tips to guide you in implementing your price strategy as well as compiled the mistakes that can occur. Step-by-step, you will be able to design and present your pricing policy.
Our Slides for Pricing
bring the major policies and tools to the point

give practical tips and point out risks

display your individual pricing concept with clear illustrations

This PowerPoint Template Includes:
definitions: pricing policy, price structure, pricing strategy

the pricing policy as part of the marketing mix

information on the importance of pricing policies for businesses

pricing policy objectives

representations of different pricing strategies

factors in pricing

"pricing for profit" by Simon Kucher

pricing policy tools

tips for implementing your price strategy

slides about common errors in price discussions

potential risks

step-by-step checklists for implementing the concept

icons