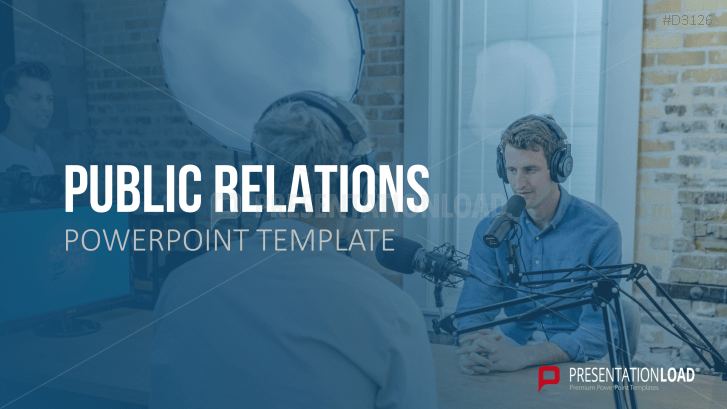 Use these slides to teach your audience the theoretical principles and practical applications of public relations.
Create a Positive Public Image
Public relations is the process of managing the relationship between an organization and the public. Successful PR activities build trust with the target group and contribute to a positive corporate image.
Public relations is often understood as press work, but it actually includes all the communication measures of a company. PR tools range from a company's own website, internal communication and media relations, to corporate events. The PR strategy is aligned with the general corporate strategy.
PR focuses more on long-term results, such as public acceptance and the positive image of the company, while advertising measures are used to promote specific products or services.
Leverage the Potential of Diverse PR Activities for Your Company
Use this presentation template to introduce your audience to the possibilities of public relations. The SWOT analysis offers a good starting point for profiling the company's strengths, weaknesses and potential. This creates the basis for a PR strategy facilitates the selection of the right PR tools. One particularly up-to-date tool is online PR, which supports real-time digital communication. Important principles and strategies of crisis communication and political communication are also presented to provide a comprehensive picture of PR. Communication models explain important basic principles of human communication to cultivate business relationships. PR dashboard templates as well as PR KPIs provide insights into how communication measures can be measured. You will also find templates for your own corporate communications, such as a fact sheet of the most important key figures and a template to introduce your team.
With the Public Relations PowerPoint Template, You Can
clearly explain the theoretical principles of public relations
highlight the differences between advertising, marketing and PR
learn how your organization can communicate effectively during a crisis
This Template Includes:
Quotes
Definitions of PR and advertising
Differences between PR, advertising, and marketing
Integrating PR into content marketing
Public relations control loop
PR process cycle
Communication models: four-sides model, iceberg model, Shannon-Weaver model, transaction analysis
Declaration of Principles by Ivy L. Lee
Development of a PR campaign based on Edward L. Bernays
Consensus-oriented public relations Roland Burkart
Grunig and Avenarius: four models of public relations practices
Activities and target groups
PR goals
Tools and methods
Media relations
Corporate communications management
Media monitoring
Internal communication
Online PR
Sponsorship
Media training
Political communication
Three steps to a PR plan
Corporate Communication Scorecard
PR dashboards
Crisis communication
Issues management process
5 phases of disseminating crisis issues
Types of crisis
Corporate communications templates: Fact sheet, employee presentation, social media presence of the company