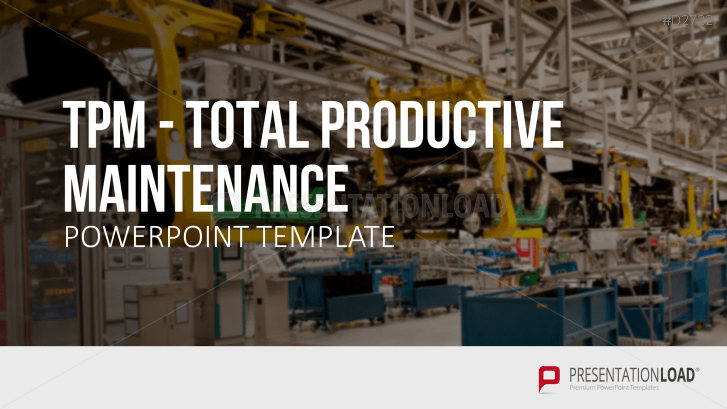 Find everything on production optimization and total productive maintenance in one set: definitions, illustrations and guidelines to improve your production plants.
Optimize Your Production with Total Productive Maintenance (TPM)
The TPM concept optimizes production processes and is of high significance when maintaining automated production plants. Total Productive Maintenance delegates different maintenance responsibilities to the production personnel to fill gaps between executives and staff.
The main purpose is to maximize plant productivity. This shall be achieved in 5 stages:
Stage I: define productivity goal

Stage II: analyze data, processes, weaknesses and potential

Stage III: plant management and plans for optimization

Stage IV: institutionalize and ensure concept

Stage V: transfer process to other production areas

Eight columns build the foundation of the TPM concept: continuous improvement, autonomous maintenance, preventative maintenance, training, monitoring at the beginning, quality management, TPM for administration and work safety as well as environmental and health protection.
TPM Maximizes Your Profit
You want to optimize your production plants and save money and time? In this case, a continuous maintenance of your production facilities is absolutely necessary. All work areas which deal with technical production equipment profit from TPM concepts, because production processes will be improved and profits maximized.
Define and Document Working Stages in PowerPoint
When you have the plan to put TPM measures into practice in your company, present basic ideas to your team and use the set as a guideline to achieve an optimization of your production plants. The set includes definitions and instructions to help you with any issue concerning Total Productive Management.
PowerPoint Templates Include:
definitions and key terms

eight Columns of the TPM concept

Five stages of the optimization process

TPM advantages

detailed instructions

charts to illustrate processes