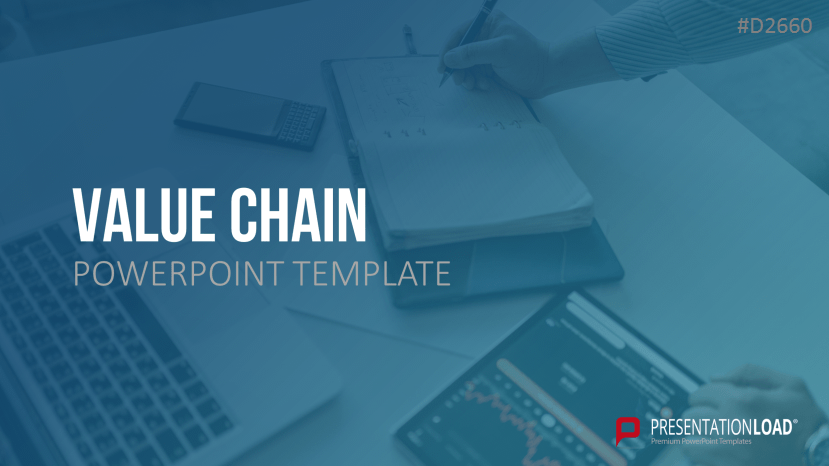 Your PowerPoint template for value chain analysis
With the value chain analysis (Value Chain) template, you can visualize an overall or partial overview of the value chain of your production. This allows you to analyze which purchase criteria are really relevant to your customers, where costs are incurred, and much more. The goal is to identify competitive advantages and exploit them profitably.
Identify Competitive Advantages
Value chains are linear graphics that represent all activities carried out within a production process. While primary activities such as marketing and customer service generate direct customer benefits, support measures such as purchasing and personnel planning serve as the basis for their implementation.
Value chain analysis, first introduced by Michael E. Porter, focuses on specific activities to identify starting points for creating cost or differentiation or weak points within the chain.
Present Value Chains
Companies use value chains to provide an overview of their current value activities and to optimize them by comparing them with competitors' value chains.

A clear and structured presentation is required to analyze activities in more detail, assess their significance, and communicate them to third parties.
Value Chain Analysis Step by Step
You can create your own value chain quickly and easily by adding your own data to our premium-quality templates.
A detailed analysis of specific production stages can be visualized using slides that focus on individual activities and their alignment with customers' purchasing criteria. Ready-made tables allow you to compare your value chains with those of your competitors and assign cost drivers to specific activities.
With the Value Chain Analysis Set for PowerPoint You Can
clearly present your production activities and their correlations.
make use of a step-by-step introduction to performing value chain analysis.
identify competitive advantages.
This PowerPoint Template Contains
Quote
Definition
Value chain as part of the business model
Value chain analysis
Cost advantage and differentiation advantage
Primary activities
Support activities
Value chain as a process
Sustainable value chain
Circular economy
Digital value chain
Data value chain
Numerous 2D and 3D templates for value chain
Image templates for primary and support activities
Value canvas
Tables for analyzing competitor activities, cost assignments, differentiation opportunities, purchase criteria, etc.