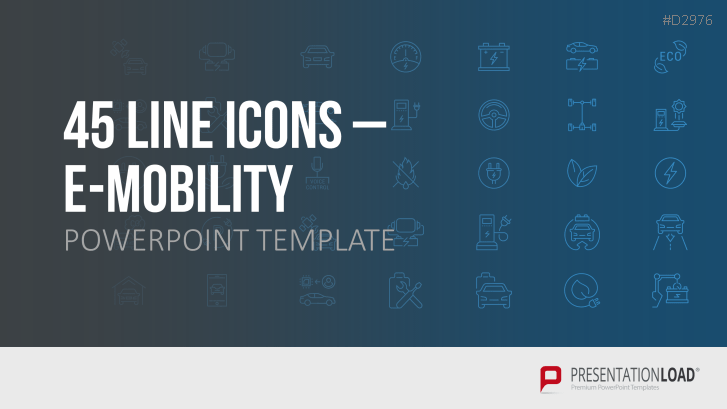 Take advantage of a large selection of icons for e-mobility presentations.
E-Mobility: A Topic with a Future
Electric mobility is a relatively new topic that's quickly gaining traction. The use of electric vehicles and alternative traffic concepts will impact a wide range of societal issues in the coming years. For many companies, this development is a transformative one. E-mobility will open up new paths in logistics, transport, the environment and change long-standing automotive processes.
Minimalist Line Design
The icons in this set allow you to represent the different facets of e-mobility and easily incorporate them into your presentation. Our line design icons are ideal for illustrating and explaining complicated technical concepts.
Whether you want to present drive systems, traffic strategies, charging processes or environmental influences, you'll find the ideal icons in our set. In addition, you will receive a series of ready-made infographics that can be enhanced with your own text.
With the 45 Line Icons - E-Mobility Set for PowerPoint, You Can
update your existing e-mobility presentations

present e-mobility statistics and developments

use icons to illustrate all aspects of e-mobility
This PowerPoint Template Includes:
a large selection of e-mobility icons
infographics to illustrate:

mobility developments
charging processes
charging infrastructures
traffic strategies
drive systems
maintenance processes
performance data
statistics
and much more