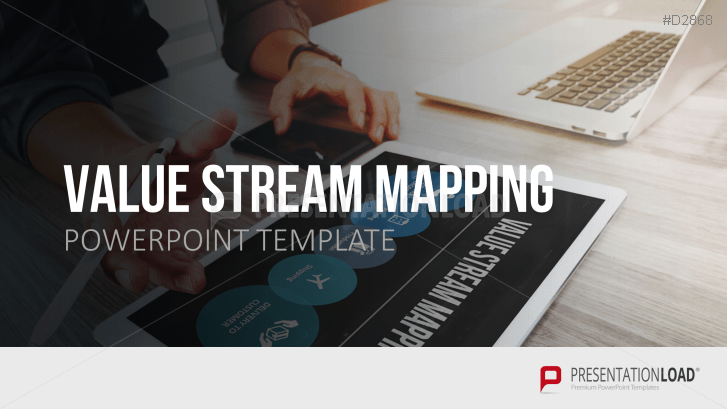 Our value stream mapping template allows you to visualize the current state of your value stream and outline new and improved target states.
Optimize the Value Stream
A value stream is made up of all processing steps, from producing to delivering a product. Value stream mapping analyzes these current steps and determines how to improve them. This analysis takes into account the flow of materials, as well as the flow of information during production.
Objectives and Processes of Value Stream Mapping
Value stream mapping aims to link all processes, reduce the cycle time, and show opportunities for improvement. By assessing the value stream's current state, this tool can create an implementation plan to achieve the target state.
There are different symbols and formulas to outline procedures and connections within the value stream. These, along with appropriate graphics, planning tables, and diagrams are included in this set, creating an appealing presentation of your value stream.
With Our Value Stream Mapping Template, You Can
acquire graphic elements for visualizing your value stream map

clearly illustrate your production processes

plan the implementation of your value stream's target state
This PowerPoint Template Includes:
a definition of value stream mapping

goals (examples and key figures)

diagrams of the process

value stream mapping symbols

current annual schedule

value stream mapping formulas