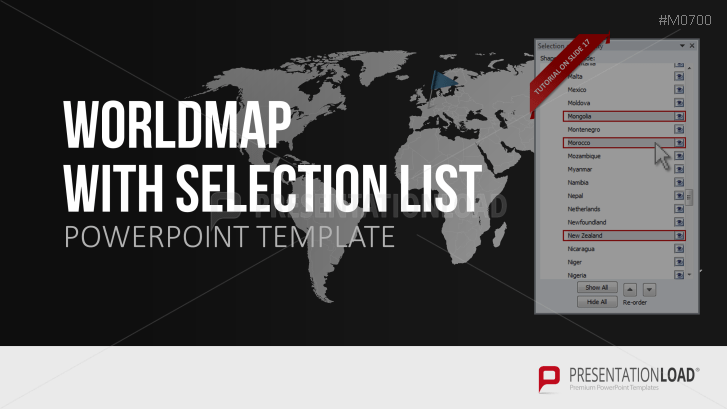 Use this customizable set of world and continent maps to show the international network of your company.

In the Age of Globalization

Globalization comes from the latin root globus (globe) meaning the international interdependence of different areas, among which, the area economy. This development can be best illustrated by using maps that are able to demonstrate how the company is positioned. i.e. where branches, subsidiaries, and customers are located and how they relate to the parent company.

Maps with Versatile Design Options

Incorporate our World Map with Selection List PowerPoint templates to present how your company operates internationally. For this purpose there are various maps available, both world maps as well as maps of the different continents, which contain key information such as the state name and the name of the largest cities.

Additionally, the templates include a selection list which allows you to select a country or countries of your choice, which are then automatically inked into the map (by color of your choice.) Additionally, by using this list, certain map regions can either be displayed or hidden which gives the audience the advantage of focusing on important information not being distracted by unnecessary information.

Another highlight of these templates is the integrated pie charts. These tools can be placed anywhere on countries or cities to present percentage distribution patterns, for example in terms of sales, employees, production centers, resources, etc.

With the World Map with Selection List PowerPoint templates, you have

the possibility of displaying or hiding important or unimportant information
different types of maps
design tools such as pie charts
PowerPoint Templates Include

silent world maps
world map with continent names
world map with country names and names of major cities
world map with country name
continent maps (Europe, Africa, America (both North and South America), Oceania, Asia)
world map with charts as a design example
Please note: For technical reasons PowerPoint for Mac does not offer the function of the selection list. The product is therefore not suitable for Mac systems. Please choose one of our other world map products alternatively.